TAWC = INNOVATIVE TRANSPORTATION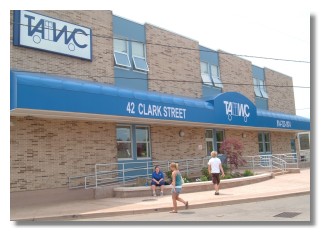 The Transit Authority Of Warren County (TAWC) was organized in 1979 and began providing public transportation bus service on September 2, 1980.

Mission Statement ~ "Within the constraints of public policy and funding, the mission of the Warren County Transit Authority is to provide safe, timely and economical public transportation to the people of Warren County."



Take our Rider Survey!





Notifying the Public of Rights under Title VI





Visit the Northwest Commission Webpage to see what is happening with transportation in the Northwest area.



Be sure to visit the "What's New" page to learn about new and exciting changes at TAWC!

About TAWC Services
The variety of transportation services provided by TAWC is designed to meet the needs of as many citizens of Warren County as possible. Improvements to the existing services are always being considered. Whether young or old, rich or poor, ambulatory or disabled, all TAWC services are open to the public. Join the thousands of people who are discovering the comfort and economical convenience of using the TAWC system. What transportation services can we provide to you?
FIXED-ROUTE SERVICE
With the cost of fuel increasing we have modified our fixed route to eliminate duplication and provide more frequent service to our loyal patrons. Our routes can now be summarized by:

We have the Sheffield-route that travels via Conewango Towers, Pennsylvania Avenue and Madison Avenue. The Youngsville-route travels via Warren General, Blair, Rouse Avenue and Youngsville Apartments.

The North/South Route travels via Market Street and Conewango Avenue to the VA Clinic and South to Pleasant Township via Warren General.

The bus fare is just $1.00! Senior citizens, age 65+, ride free. Discount TAWC tickets are also available. Children 6 to 12 years - $ .50. Children under 6 ride for free with an escort. Children to or from Warren County High Schools or to or from the Warren C.A.R. Pool or Brokenstraw Valley Pool - $ .25.

The TAWC fixed-route buses offer an easily accessible entry for all passengers needing greater access. These buses are low floor buses with kneeling capability.
SHARED-RIDE SERVICE
This door-to-door service system is a service that will pick you up at your door and return you to your door at the end of your trip, in accordance with daily schedules. This service is available to residents throughout Warren County.

You must call our office at least one working day in advance before 2:00 pm to reserve your seat, (pending available seating). Trip reservations can be made one week in advance, two weeks for medical appointments.

The bus will take you to senior centers, medical appointments, visiting, shopping or just for a day out.

TAWC buses are available to the handicapped. The buses are lift-equipped for passengers in wheelchairs or who have difficulty with steps. If you need to use this feature please tell the dispatcher at the time you reserve your ride.

Passengers are encouraged to obtain an escort if they need assistance getting to or from the TAWC bus.
COMPLIMENTARY PARATRANSIT SERVICE
The Americans With Disabilities Act requires public transit agencies to provide accessible bus service to persons with disabilities.

Complimentary Paratransit service provides a bus with a wheelchair lift that goes directly to your home and takes you where you want to go, within a specified area. This service is provided ONLY if you have a disability that prevents you from using a Fixed-Route accessible bus. If you need an escort for assistance, your escort rides for just $.75. The bus fare for this service is $2.00.

Click here to download the Request for Certification of ADA Eligibility. Once you've downloaded and printed it, simply complete the application and return it to us.

PERSONS with DISABILITIES (PwD)
The PwD program is available for qualified persons living outside the fixed-route system with a disability defined by the Americans with Disabilities Act. To better serve people with disabilities living in rural areas TAWC is providing discounted shared-ride services for eligible residents in all of Warren County.

Click here to download the Eligibility and Registration Form. Once you've downloaded and printed it, simply complete the application and return it to us.
MEDICAL ASSISTANCE TRANSPORTATION PROGRAM
This special program provides medical transportation services to eligible persons in need. Transportation is provided by TAWC for persons with an eligible ACCESS card and upon verification of need. This service will be provided directly or through mileage reimbursement. The PA Department of Public Welfare determines eligible persons. You can download the application, print it out and mail it to us. Click here to download the application.
SENIOR IDENTIFICATION CARDS
Senior citizens age 65+ are eligible to receive a Senior Citizen Identification Card. Obtaining a card is simple. You can call the Transit Authority at 723-1874 and we will send you an application. Simply fill out the application and send it back to us with a copy of the required proof of age, and we will send your card out immediately.

You can also download the application, print it out and mail it to us. Click here to download the application.

You can also visit our office at 42 Clark Street in Warren, fill the application out right there, and receive your card immediately.
Please remember that you MUST provide proof of age in order to receive your card. The following documents may be used as proof of age:
Birth Certificate
Baptismal Certificate
PACE Card
Statement from Social Security Administration
Armed Forces Discharge Papers
Resident Alien Card
Passport/Naturalization Papers
PA Identification Card
Photo Motor Vehicle Operator's License
You can use your card for only $.75 a trip on any of our Shared-Ride buses.

You can use your card for FREE service on our Fixed-Route buses.
We want to remind you that your Shared-Ride bus transportation is provided under the Pennsylvania Lottery's Transit Program for Senior Citizens. Experience Incorporated provides a local required match. Senior citizens and escorts are required to pay $.75 per trip for this service. There are no tax dollars involved. You have earned the right to take advantage of this program, which was created exclusively for you. By using the service you help to insure the programs continued existence. The free transit program for senior citizens on the Fixed-Route is FREE at all times.
HAPPY RIDING!
The Transit Authority Of Warren County WANTS TO THANK YOU FOR YOUR expressed interest in our services. If you are a veteran bus rider we want to thank you for your support. If you have never ridden the buses, we encourage you to do so. As you can see, there are a number of services available, one of which is right for you. We welcome your questions, concerns, or suggestions.
RULES OF THE ROAD
Persons using the Fixed-Route service should go to a designated bus stop to board the bus.
A person using the Fixed-Route service may get off the bus at places other than the bus stops if the driver feels it is safe.
Please arrive at your bus stop at least five minutes ahead of the scheduled time.
Please have exact change - drivers do not make change.
Please! No eating or smoking on the bus. Drinks are permitted with a secure bottle top.
Please stay seated while the bus is moving
Please - no talking to the driver while the bus is moving.
Please no loud music, profanity, fighting, being obnoxious, or other disturbing behavior including lack of personal hygiene.
When traveling with an infant hold the child in your lap. Older children should be secured if a seat belt is available. If you have a stroller, fold it and do your best to keep it out of the way of other passengers. Only strollers that fold are permitted on the buses.
TAWC reserves the right to deny service to persons who do not follow the rules or who cause other problems which may affect the safety or well being of the TAWC buses, drivers or its passengers. Thank you for your consideration of these 'rules of the road'.

SERVICE DAYS
Fixed-Route Service operates Monday through Saturday
Shared-Ride Service operates Monday through Friday
No service on Sundays or the following holidays:

New Years
Memorial Day
Fourth of July
Labor Day
Thanksgiving
Christmas Day
TAWC does exercise its operations for your safety. Service may be interrupted and or cancelled due to weather conditions!